Junior Curriculum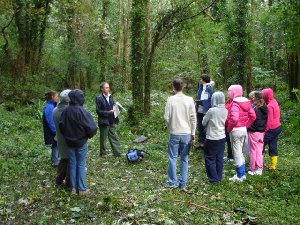 We have nine science teachers in St Andrew's College, all of whom teach the Junior Certificate cycle. Each one also specializes in a senior science subject and/or an International Baccalaureate course. At present we have three student teachers.
The Junior Certificate Science syllabus has been revised, with the first revised state examination held last June (2006). The syllabus encompasses all areas of science with physics, chemistry and biology sections.
COURSEWORK A
Mandatory investigation write ups account for up to 10% of the final result – these experiments are carried out over three years and are kept in journals for inspection.
COURSEWORK B
Two investigations are carried out in the second term of the third year. Written reports by each student are sent off to the Department of Education and Science and these account for up to 25% of the final result.
COURSEWORK C
Finally, the written exam accounts for 65% of the final result. This tests the students' knowledge of all areas covered over the three years.
The new syllabus differs greatly in that there is a lot more hands on experimentation by the individual student and the opportunity to attain up to 35% of the final result before sitting the written examination. However, unlike previous years there is no choice of questions on the examination paper in June.
Formal school examinations throughout the years give the students a feeling of what the state examinations are like and hopefully make them less daunting. Many students have an idea by third year which area of science they prefer and accordingly will continue with either physics, chemistry, biology or indeed all three in the Leaving Certificate years.
This year, our Third Year students went to Knocksink Woods to carry out their ecology investigation.