Basketball News
U19 Boys win Eastern Region League Final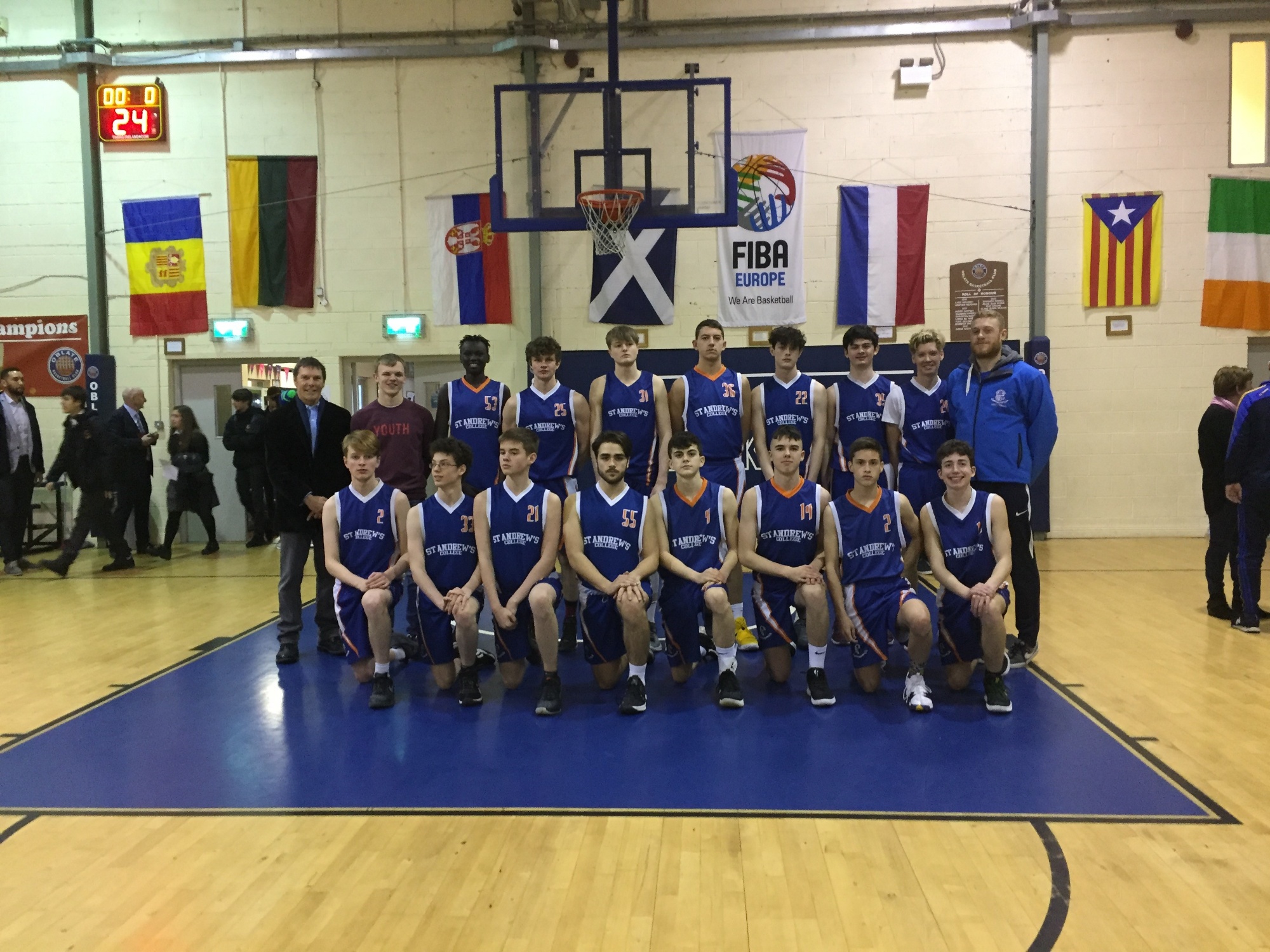 The Senior Boys' Basketball Team had a fantastic win on Thursday 6 December 2018 in the Oblate Hall when they captured the East Regional League Title with a thrilling victory over Pobalscoil Neasáin. In a game where every possession mattered, the boys secured a victory by the slenderest of margins, 43-38.
Having come out of the blocks quickly in recent weeks, this time the boys took their time to get going and it was Pobalscoil Neasáin that would lead 12-10 at the end of the opening period with a flurry of knock down shooting keeping St Andrew's within touching distance.
It was in the second quarter that the Boys in Blue began to up the tempo led by their co-captains Jake Owen and Matthew McGrath contributing on both ends of the floor. Sotiris Miltiadis was proving to be a major problem under the basket with a number of big offensive rebounds allowing St Andrews to push in front by the time the half time buzzer sounded.
With a large crowd in attendance and a particularly noisy group of supporters from Pobalscoil Neasáin, St Andrew's were continuing to stay focused with some superb defensive play more than making up for issues that they were having on the offensive end of the floor.
With the outcome of the game still in the balance, and with only a three point advantage as the clock ticked down late in the fourth quarter, Third Year student Sam Lucas showed maturity beyond his years to knock down all three free-throws after being fouled on a three point attempt. These free-throws along with some controlled play in the final ninety seconds ensured that St Andrew's would emerge exhausted but victorious after a gruelling 32 minute battle.
Coach O'Reilly had this to say after the game: "The boys have been a pleasure to coach so far this year. Their dedication and commitment at training and in games has been unrivalled and therefore I am delighted to see them secure this success."
We started pre-season training on 21 August with fifteen players on the panel and since then each and every one of them has contributed to allow us to secure this trophy.
Whilst we will be sure to enjoy the celebrations, we will now refocus and look forward to the All-Ireland play-offs which will take place in late January.
St Andrews U19 Basketball Team: Jake Owen (Captain), Matthew McGrath (Captain), Sacha Bistany, Sam Lucas, Gianpaolo Joyce, Liam MacGearailt, David Bell, Oscar Given, Liam Smyth, Lawrence Proseckin, Anthony Tiernan, Sotiris Miltiadis, Cian MacCathy, Kuol Ngor, Jake Justiano.