The Wriggle Bus comes to St Andrew's College
The Wriggle Bus came to school on Thursday 12 December and talked to P6 students about coding.
Here are a couple of reports from students: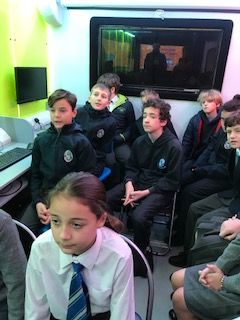 Yesterday P6 were visited by the Wriggle Bus. Adam and Sean from Wriggle took our group and talked to us about coding. We went into the bus and Sean spoke to us about how coding is everywhere from cars to fridges. It was very interesting because they also showed us how coding helps us a lot and save us from many manual labour jobs. There was a really interesting clip of a Formula 1 pit stop from 1950 where it took over a minute to change two wheels on the car. Then Sean showed us another clip of a much more recent pit stop where the wheels were changed in about 6 seconds. This was a great example of how coding has helped improve and quicken many jobs.
After that we moved into the classroom where were got to code Spheros – these are little balls which you could program to drive wherever you want.
We were given the task of completing a circuit with the Sphero and then they added more challenges to it once we completed it. We had a fun end to the morning when we made battle robots with the Spheros and we controlled them to fight other robots. The girls won everything!
By Mathias, P6S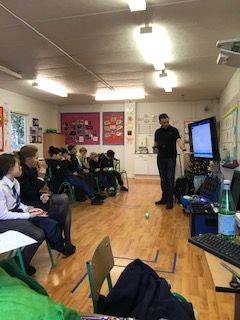 Yesterday the Wriggle Bus came to visit! Firstly, we entered a bus and watched an introduction video about coding. We figured out that many electronics need coding to work such as phones, iPads and computers. After we came back inside and worked with a Sphero - a Sphero is a plastic ball with microchips in it that you can programme to move wherever you want. We got into pairs and started coding with it. What we would do was we would draw lines and shapes on an ipad and then the Sphero would move around! After that we started using blocks like in Scratch - we would have a course set out and had to make the Sphero go through it! We had a lot of fun and after we had duels; we put plastic cups on the Spheros and sticks and duelled. THE GIRLS WON!!!
By Victoria, P6S
For some photos please click here.