Class by Class
In K1 We Are Becoming Responsible Cyber Citizens. We are learning how to manage our devices responsibly and how to navigate the interface with confidence. We are working on presenting and communicating with the iPad on various apps such as Doodle Buddy, Tux Paint and Brushes.
In K2 We are Programmers! We are working in groups consolidating our knowledge and understanding of mathematical apps and apps to help with literacy such as Symmetry and Sentence Builder. We are also beginning to discoverer code through pre coding applications such as Hopscotch and Kodable. We will soon be learning about inputs, instructions, sequencing and animating through Discovery Education Coding.
In P1 We are Coders, Illustrators and Scratch Junior Programmers. We will soon be looking at some algorithms to begin to code simple animations with Espresso Coding.
In P2 We are Animators – Using block code to create our own animations. We will be designing and importing backgrounds and sprites. We will also be learning how to safely save and upload our work to our P2 Scratch Account.
In P3 We are Programmers – storytelling through scratch animation. We will plan and program an animation for a specific purpose. We will be using x,y coordinates, programming a sprite to move across a stage, animate one or more sprites and program them to have dialogue. We will soon be able to find and fix bugs in our code and recognise where there is a bug in other scripts.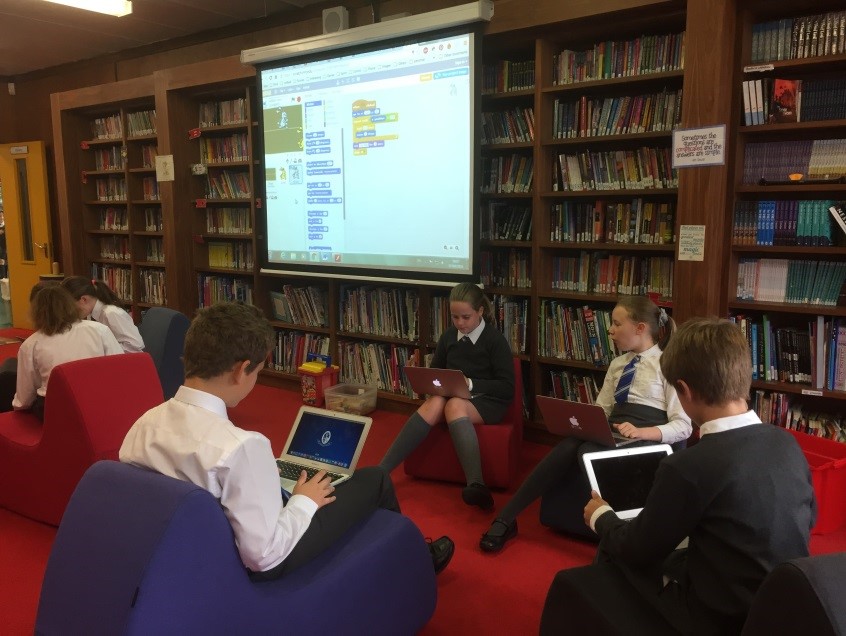 In P4 We are Software Developers! – Using Scratch we are beginning to plan our first interactive educational game for maths following a prototype and looking at the animation process from story board to big screen.
In P5 We are Game Programmers – Using Scratch we will plan our first independent interactive computer game. We will begin with a storyboard and watch our game develop. We will be checking our code for bugs, using a variety of porotypes from our software development tasks last year. We will eventually be testing our games with fellow programmers and peer groups.
In P6 We are Presenters – Using Prezi, we are learning how to present in an exciting, new and revolutionised manner, making our stories and presentations come to life through more graphics and visual effects thereby allowing our audiences to feel more engaged and enjoy a more creative experience. We are learning about all the functions and how to confidently navigate the Prezi user interface. We will soon be looking back through the history of Code from cryptography to HTML and examine the changes and advancements in technology through the ages.